What Is HIPAA-HITECH?
The Health Insurance Portability and Accountability Act of 1996 (HIPAA) and, by extension, the Health Information Technology for Economic and Clinical Health (HITECH) Breach Notification requirements were enacted to ensure that privacy safeguards are in place for data that is collected, stored, processed or transmitted.
Introduction To The HIPAA And HITECH Act
HIPAA and HITECH first came together in 2009 with the American Recovery and Reinvestment Act. Title XIII – known as the HITECH Act – allocated funds for the formation of a national network for digital health records and founded the Meaningful Use program. This program encouraged health care providers to adopt technology while assuring compliance with the HIPAA privacy and security regulations. A section of HITECH specifically focuses on the electronic storage and transmission of medical records and introduces measures for effectively meeting HIPAA standards.
The Difference Between HIPAA And HITECH
Both HIPAA and HITECH are acts regarding securing ePHI and protecting patient privacy. Notably, HITECH measures are designed to support the implementation of HIPAA regulations. Since 2011, a HITECH-required rule also made it possible for patients to request reports detailing who has accessed their ePHI and according to what authority.
HIPAA And HITECH Auditing Requirements
HIPAA-HITECH outlines auditing requirements and levies penalties against organizations whose information security systems are not in compliance with its standards to keep healthcare data secure from unauthorized access. If your company works with healthcare organizations, your information systems must provide a set of protocols and controls to keep Electronic Protected Health Information (ePHI) secure.
As part of your business operations, your organization may collect, store, transmit, or process sensitive information gathered from your customers. As a result, you will need to establish a set of security controls and objectives based on specific operations to handle risk management of this information.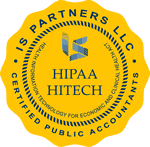 Performing Audits That Meet HIPAA-HITECH Standards
I.S. Partners, LLC will conduct an assessment of the potential risks and vulnerabilities to the Confidentiality, Integrity and Availability of ePHI, that your company collects, stores, processes or transmits against standards established by HIPAA-HITECH so that you can take the necessary steps to avoid penalties and data security breaches.
We determine whether any part of your organization is not in HIPAA-HITECH compliance, and will provide you with a comprehensive risk assessment report which you can use to make improvements necessary to conform to HIPAA-HITECH standards.
Providing HIPAA-HITECH Attestations
I.S. Partners, LLC provides third-party attestations for organizations to verify that their controls and policies align with HIPAA-HITECH regulations. We test and validate the documentation of an organization's information systems to determine if its controls meet the desired objectives. After we attest to system operations, we provide a report regarding your organization's compliance to HIPAA-HITECH along with our opinions on how to further improve operations to protect and safeguard healthcare data information.
I.S. Partners Seal Of Approval
Recipients of the HIPAA-HITECH seal have demonstrated that they comply with the privacy and security provision of the HIPAA-HITECH Acts which establish rules for security, privacy and confidentiality safeguards of Protected Health Information (PHI) and Electronic Protected Health Information (EPHI).
Advantages Of HITRUST Over HIPAA & HITECH Audits
Compliance with HIPAA and HITECH is crucial for any organizations dealing with ePHI, but a HITECH or HIPAA audit may not be the simplest way to reach that goal. HITRUST assessments incorporate and build upon these regulatory standards, while also providing a prescriptive framework. The CSF is valuable guidance in efficiently and effectively implementing HIPAA security rules. The overall advantages are high security assurance and a clearer path to compliance.
Learn more about the important benefits of HITRUST certification for your organization.