HOW IT WORKS
Compliance Audit Software
PARTNER WITH I.S. PARTNERS
Enhance Your Expertise with Compliance Referral Support
As a managed IT or cloud service provider, you understand the importance of compliance in today's regulatory landscape. But what happens when your clients request compliance or auditing services that fall outside your expertise? That's where I.S. Partners comes in.
Introducing our comprehensive compliance referral service – a powerful solution designed to provide expert guidance and support to your customers, helping them achieve and maintain compliance with relevant government regulations. Our seasoned team collaborates with you to deliver seamless, 360-degree services that meet the high standards today's businesses expect.
ADVANTAGES
Compliance Support to Complement Your IT Services
By partnering with I.S. Partners, you'll unlock a wealth of benefits for your clients: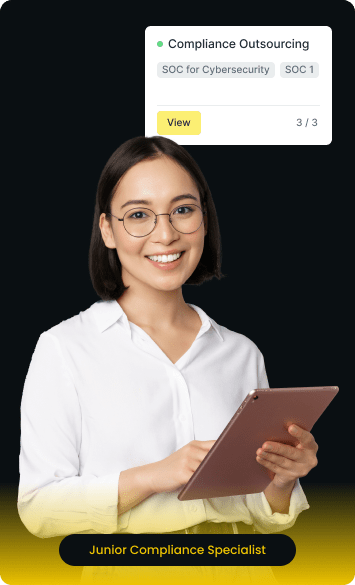 INCENTIVE
Audit Partnerships that
Add Value for Your Clients
Imagine the peace of mind your clients will experience, knowing they have a trusted partner to guide them through the complexities of regulatory assessments, audits, and certification. As an extension of your company, we work hand-in-hand with your technicians, offering a comprehensive suite of IT auditing, cybersecurity testing, assurance, and attestation services.
As a cybersecurity and compliance auditing firm, we want to support referral partners and ensure mutually beneficial relationships.
Discounts
Free compliance consultation and exclusive discounts on compliance and attestation services–for your company or for your clients.
Support
Guided by a dedicated account manager who is ready to help with any questions or issues.
Training
Access to training and educational resources related to compliance and cybersecurity.
Partner Your Firm With I.S. Partners
As a leading compliance auditing firm, I.S. Partners works with managed IT companies and cloud service providers to ensure their clients' success through robust and efficient regulatory compliance solutions. We have IT auditing, cybersecurity testing, assurance, and attestation services all under one umbrella. We can help end-customers operating in a wide range of regulated industries that are required to comply with IT standards.
Participating as an I.S. Partners' referral partner gives your company a valuable opportunity to enhance its service offerings and strengthen client relationships. Our compliance referral service empowers your clients with expert guidance, helping them confidently navigate regulatory compliance complexities.
Want to Offer Your Clients More?
Partnerships benefit you and your clients. By combining unique perspectives, skills and diverse backgrounds, we create innovative solutions to address your company's most complex issues.
For more information on how our compliance and regulatory services can fit with your company's service offering, fill out our form. An I.S. Partners expert will be in touch to discuss your company's goals and demonstrate how our compliance partner program can work for you and your clients.