I.S. Partners, LLC is a Certified Public Accounting firm registered with the AICPA (American Institute of Certified Public Accountants) and PCAOB (Public Company Accounting Oversight Board), and is managed by a group of highly seasoned partners who have vast experience in performing SOC audits, FISMA, HIPAA HITECH, Sarbanes-Oxley (Section 404) management self-assessments, Model Audit Rule compliance, and other specialized information technology audits.
Value Advantages of SOC 1 Reports
A SOC 1 report focuses on both business process controls and information technology controls. The advantage of SOC reporting is that it builds trust regarding implemented internal controls are vital to customers who receive services from your organization.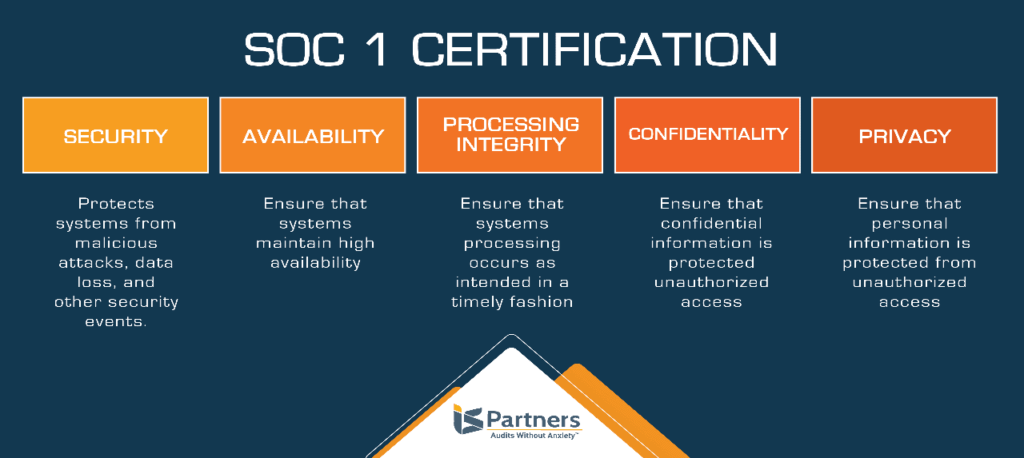 An audit report provides a broad-based, enhanced assessment the effectiveness of controls and compliance. It delivers greater assurance for your customers. The customer will have the assurance that internal control audits affecting their financial reporting are timely and accurate in order to stay in compliance with company policies and government regulations.
Does My Organization Need a SOC 1 Report?
SOC 1 engagements are intended for service providers. For example, if you offer payment processing services to clients, your service organization may require a SOC 1 because you may have an impact on their financial statements. A SOC 1 report may be required by your service organization because a client or regulatory body has requested it, or because you are being proactive with information security and compliance.
SOC 1 Reporting & Auditing Services
I.S. Partners provides auditing services and attestation in the form of SOC 1 Type 1 and SOC 1 Type II reports. SOC 1 Type I reports state an opinion that your organization's internal control system is designed suitability to achieve the related control objectives on a specified date. SOC 1 Type 2 reports contain the same information as a Type I report, but with the added testing of the controls to prove their operating effectiveness a period of time. In contrast, a Type II report describes the testing that is performed and the results of those tests.
A customer working with your service organization will routinely have their financial statements audited. SOC 1 auditing services provided by I.S. Partners LLC will give your customer's auditor the assurance that your service organization's controls are designed and operating effectively, and that these controls do not negatively impact your customer's financial statements.
SOC 1 Certification of Excellence – I.S. Partners
Our firm can attest to your service organization's internal controls and will let your customers know that your internal controls are effective. We can walk you through the SOC 1 preparation, readiness, auditing and reporting processes.
The I.S. Partners "seal of excellence" is granted to SOC 1 – Type I and Type II recipients with unqualified audit opinions. For Type I recipients, the seal indicates that controls are designed effectively. For Type II recipients, controls are designed and operating effectively. The seal is illustrated on the audit opinion letters and is made available for posting on the recipient's website and/or marketing literature. Let our specialists learn more about your needs in order to provide you with an accurate quote!
Start the process of obtaining your SOC 1 Certification of Excellence by booking a free consultation.
Frequently Asked Questions about SOC 1 Reports & Audits