What Is FISMA?
The Federal Information Securities Management Act of 2002 (FISMA) – also known as Title III of the E-Government Act of 2002 – regulates federal information security. FISMA requires that all government agencies and government contractors adhere to a compliance standard outlined by the National Institute of Standards and Technology (NIST) in their Special Publication 800-37.
This compliance standard provides guidelines for assessing information systems supporting the executive agencies of the federal government, and determines the proper handling and management of federal information. Any government agency or organization working with federal government data must adhere to this standard in order to safeguard its information systems.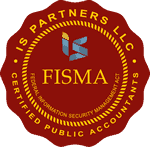 Should My Organization Receive A FISMA Assessment?
Even though your organization may not work directly with federal agencies or contractors, you can still obtain a FISMA assessment. Assessments performed by I.S. Partners, LLC rely on the NIST standards to evaluate whether your information system meets assurance requirements, and will reveal any gaps in information system safeguards.
What's Involved In A FISMA Assessment?
I.S. Partners, LLC helps government agencies and their service providers achieve compliance with FISMA information security standards by:
Implementing plans to reduce risk to government information assets
Developing an efficient and measurable security program
Designing and creating managed services for tracking and reporting
Assisting with understanding evolving FISMA compliance requirements
Creating and maintaining FISMA required inventory of major systems
The assessment will examine your organization's current information security system, and will provide you with a System Security Plan, Security Assessment Report, and a Plan of Action and Milestones.
I.S. Partners Seal Of Approval
The Federal Information Security Management Act of 2002 regulates federal information security, utilizing NIST Special Publication 800-37 as its compliance standard. The FISMA seal indicates certification and accreditation of the recipient's System Security Plan, Security Assessment Report, and Plan of Action and Milestones.