SOC 1 vs. SOC 2: What Type of Audit Does My Organization Need?
If your company provides services to other companies, those services may have an impact on your customers' financial reporting. As a result, your customers' auditors may need assurance that the controls surrounding your services are designed effectively, and in some cases, operating effectively.
What does SOC 1 and SOC 2 stand for? They are a way to provide that assurance is by undergoing a Service Organization Control (SOC) audit.
We can define SOC reports as a document that helps service organizations "that operate information systems and provide information system services to other entities, build trust and confidence in their service delivery processes and controls through a report by an independent Certified Public Accountant," according to American Institute of CPAs (AICPA).
Then, when we look closer at SOC 1 vs. SOC 2 audit reports, it's easy to see the distinct differences. SOC reports serve to assist your customers who need to comply with audit requests from outside accounting firms, so the results of your SOC audit help make those audit processes smoother.
Recently, more and more services are being outsourced to data centers. Service organizations have made these services a core component of their business model, providing these services more efficiently and cost-effectively.
It must be noted that the service organization retains the responsibility for the services it provides and for the confidentiality and secure protocols in protecting sensitive data. The SOC 1 and 2 reports grant transparency of specific controls implemented by a service organization, and the tests performed by the auditor.
The success or failure of these controls has a direct or indirect impact on the reputation, financial statements and stability of the user organization.
As a service organization, you bear certain responsibilities regarding different facets of your business to each of your clients, according to the AICPA. SOC reports are designed to help meet your needs in fulfilling specific client (or user entity) requests, which come in the form of SOC 1, SOC 2 or SOC 3.
SOC 1 for Service Organizations: ICFR
The SOC 1 audit addresses Internal Control over Financial Reporting (ICFR). Anything likely to be relevant to an audit of a user entity's financial statements is the focus for a SOC 1 audit.
Further, there are two different types of SOC 1 reports available:
The Type 1 report offers the opinion of your auditor that your system is designed suitably to achieve the related objectives on a specified date.
The Type 2 report contains all the same information as Type 1 but focuses on testing the controls to prove their effectiveness over a period of time.
Get our tips for preparing for your next SOC 1 audit here.
The SOC 1 Report
Previously known as the SSAE 18, the SOC 1 report has a financial focus; it covers the service organization's controls that are relevant to an audit of a user entity's (customer's) financial statements. Control objectives are related to both business processes and information technology.
A SOC 1 – Type I audit report focuses on a description of a service organization's control and the suitability of how those controls are designed to achieve the control objectives as of a specified date.
A SOC 1 –Type II audit report contains the same opinions as a Type I, but it adds an opinion on the operating effectiveness to achieve related control objectives throughout a specified period. SOC 1 audit reports are restricted to the operations management of the services organization, user entities, and user auditors.
Does My Organization Need a SOC 1 Report?
You probably know whether your organization needs to perform SOC 1 reports for your customers, but it might help you to ask yourself a few key questions to make sure you need to perform this particular report:
Will a SOC 1 report serve as a reliable tool for your customers and their auditors when performing an audit? This function is the cornerstone of a SOC 1 Type 1 report and is invaluable to helping your customer undergo a smooth audit that leaves little room for questions from outside auditors.
Will the SOC 1 report prove useful to your customers who need to comply with the Sarbanes-Oxley Act (SOX) of 2002? A SOC 1 report serves as a solid tool that will help your customers comply with financial laws and regulations, improve adherence to corporate responsibilities, and combat corporate and accounting fraud.
Will the SOC 1 report help form strong relationships with stakeholders and customers? One benefit of a SOC 1 report is that it helps boost trust and confidence in your service organization among stakeholders. A SOC 1 provides an easily accessible report of your processes to create transparency and assurance.
The AICPA clarifies that this type of SOC report is for service organizations that directly impact, or has the potential to impact, their clients' financial reporting. It is also relevant to user entities' internal control over financial reporting.
SOC 2 for Service Organizations: Trust Services Criteria
The SOC 2 audit is used when a company outsources technological and data-related services, such as data hosting, colocation, data processing and Software-as-a-Service (SaaS).
The SOC 2 report focuses on the controls at a service organization that relate to the security, availability, processing integrity, confidentiality, and privacy of a service organization's technological systems, operations, and regulatory compliance.
This report is particularly helpful in areas that include organizational oversight, vendor management programs and regulatory oversight.
The SOC 2 Report
The SOC 2 report was previously known as the SSAE 18 standard. It was created in part because of the rise of cloud computing and business outsourcing of functions to service organizations.
These are called user entities in the SOC reports. Liability concerns have caused a demand in assurance of confidentiality and privacy of information processed by the system.
The meaning of SOC 2 is a report on the availability, security, processing integrity, confidentiality and privacy of a service organization's controls.
The report addresses controls related to operations and compliance, as outlined by the AICPA's Trust Services criteria in relation to its services, operations, and compliance. A service organization may choose a SOC 2 report that focuses on anyone or all five Trust Service principles and may choose either a SOC 2 Type I certification or a Type II certification.
A SOC 2 report includes a detailed description of the service auditor's test of controls and results. The use of this report is generally restricted.
Does My Organization Need a SOC 2?
SOC 2 requirements govern engaged, technology-based service organizations which store client information in the cloud. This includes SaaS providers and other cloud service platforms.
Other Types of SOC Audits
SOC 3 for Service Organizations: Trust Services Criteria for General Use Report
Designed to meet the needs of user entities that need specific information about certain criteria of a SOC 2 report — covering only a period of time with no need to focus on a point in time — but do not need everything that a SOC 2 report entails.
A SOC 3 report can be issued on any one or all of the trust services principles and is delivered in the form of an opinion letter only. Here's when you should consider a SOC 3 audit.
SOC for Cybersecurity
SOC for Cybersecurity is the new kid on the block when it comes to the System and Organization Controls family, but it is critical to demonstrate the controls of a service organization's cybersecurity risk program. Read more about SOC for Cybersecurity here.
SOC for Vendor Supply
The complexity and interconnectivity of modern supply chains, driven by technologies such as the Internet of Things (IoT) and automation, have increased the potential for supply chain risks, including cyber breaches and regulatory pressures.
To address these risks, the AICPA released new guidance for SOC for Supply Chain reporting, which offers user entities insight into suppliers' processes and controls for mitigating risks.
Completing a SOC for Supply Chain report can provide suppliers with a competitive advantage by offering transparency and assurance to multiple user entities, reducing the burden of independent inquiries, and helping manage key risks in the manufacturing process. Click here to learn more about SOC for Supply Chain.
SOC 1 vs. SOC 2: How Are They Different?
Let's look at the similarities and the important differences by comparing SOC 1 vs. SOC 2:
The scope is different: SOC 1 reports focus on financial controls, while SOC 2 reports focus more broadly on availability, security, processing integrity, confidentiality and privacy.
SOC 1 tests controls that meet the identified control objectives, where SOC 2 identifies and tests controls that meet the criteria.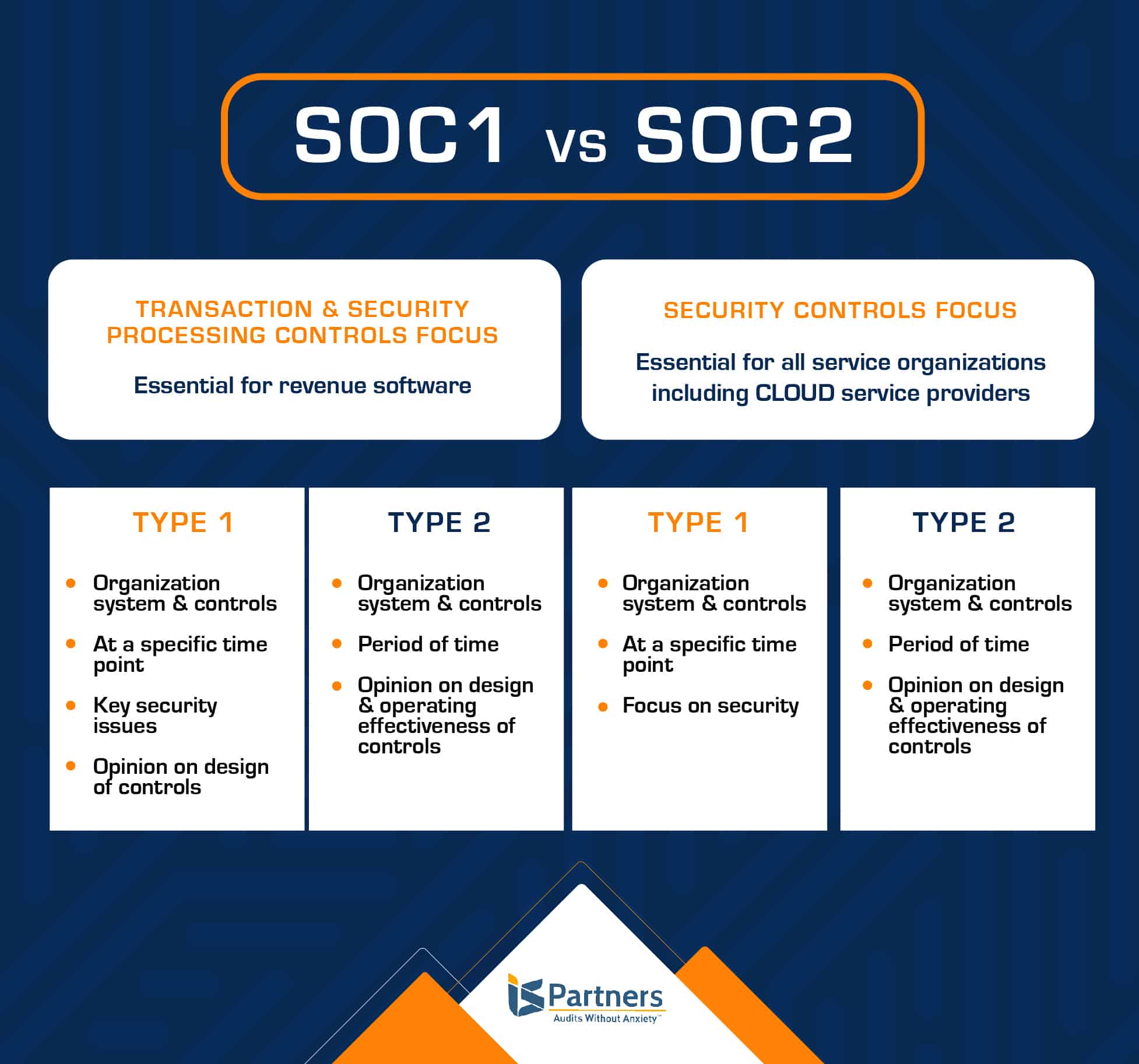 Who Receives & Reviews SOC Reports?
The user entity's auditors are responsible for an organization's internal controls, regulatory and IT compliance and should obtain and review the SOC 1 or 2 report.
Anyone in vendor compliance, internal audit, operations manager, IT management and legal departments may be interested in understanding the control structure of the service organization. Key components to consider when undergoing a SOC report:
Does the report include testing the operating effectiveness of controls for a specific period of time, or does it only cover a specific point in time?
For SOC 1 reports, does the time period of the tests of controls provide appropriate coverage for the specific fiscal year?
Does the system or report scope comprehensively outline the services that you outsource?
Does the scope of the system include a sub-service organization? Has the service organization utilized the carve-out or inclusive method?
Review any testing exceptions to determine impact of your assessment of the service organization.
The service auditor's professional reputation.
SOC 1 vs. SOC 2 Can Be a Difficult Decision – We Can Help
I.S. Partners, LLC is the leading provider of internal audit services for businesses around the world. We perform SOC audits both in person and remotely. Let one of our trusted experts help meet your business goals. Request a quote to get started.