Both PCI compliance and the General Data Protection Regulation (GDPR) are designed to enhance end-user safety and to secure personal data, but there are some key differences you should be aware of. Since PCI DSS covers the handling of credit cards and personal data and GDPR covers the use and storage of personal information, the two have some overlap – leading to confusion in some cases.
Which compliance or mandate matters most? And how can you ensure your organization remains on the right side of these important regulations? Understanding how PCI and GDPR differ from one another can help you get a handle on compliance with both sets of regulations.
PCI vs. GDPR: Key Differences
Before discussing what PCI and GDPR have in common, let's take a closer look at what sets them apart.
Scope of the Data Covered
GDPR covers a huge range of personal data. It has a much broader scope than the more focused PCI compliance issues. Compared to PCI, GDPR is a giant, encompassing any and all personal identifying data collected from anyone in the EU. From opt-in information collected as part of a marketing initiative to information about specific orders and behaviors, the GDPR exists to ensure that personal data is not exploited, is deleted upon demand, and is only used as long as the individual consents.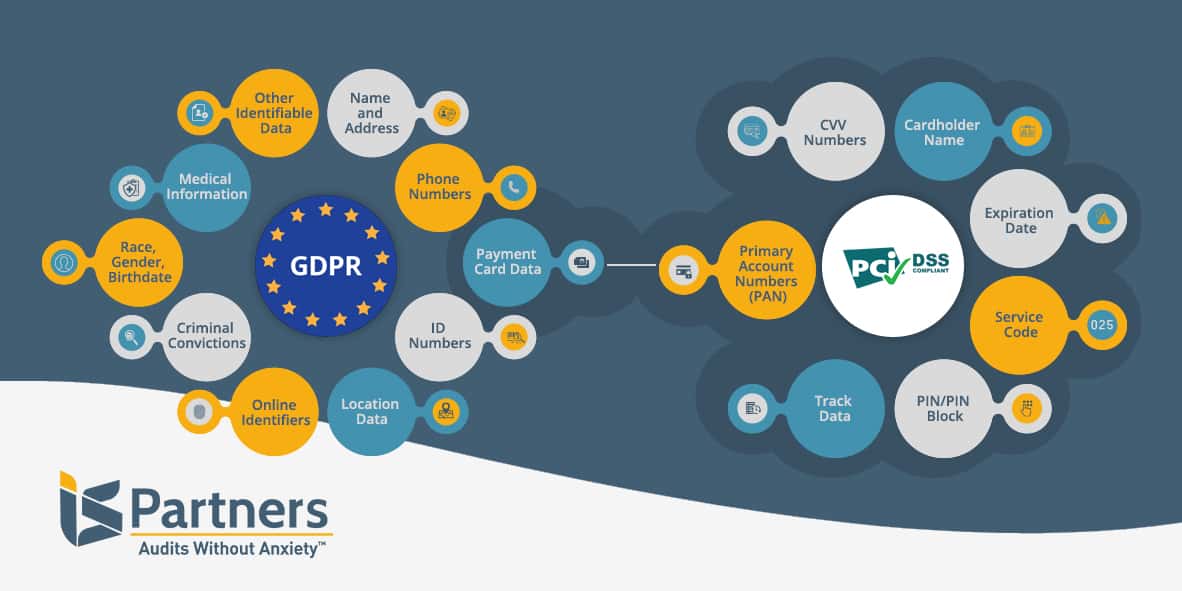 As you can see in the image above, PCI and GDPR vary greatly in scope. PCI regulations overlap on just one type of data within the wide scope of GDPR.
In contrast, the scope and scale of PCI is much smaller and far more targeted. Since PCI deals with the use of a very specific set of data it is far more focused. If you accept credit cards, you need to be concerned with PCI; if you accept credit cards from users in the EU, then you also need to comply with GDPR.
Need to know more about GDPR? Achieve & Maintain Peak GDPR Compliance with These 5 Technology Solutions.
Security Issues vs. Privacy Concerns
GDPR's prime focus is on privacy and the protection of personal data. While collected personal data obviously needs to be protected, security is not the primary purpose of this regulation. GDPR also aims to put individuals in charge of their own data, giving them the means to withdraw consent, have their data erased, or control it in some way.
PCI's main focus is security and the protection of cardholder data. Protection from breaches, loss of data, and identity theft are all covered under PCI, but individuals do not have as much control over their own personal information. Instead, PCI focuses on keeping all cardholder data secure. Keeping servers secure, limiting access, and a focus on risk assessment and mitigation are hallmarks of PCI, not the safeguarding of personal information.
PCI seeks to limit and monitor access to payment information and cardholder data through a variety of initiatives and methods, while GDPR aims to protect the privacy of the user and prevent unauthorized use of their personal information.
Scope of Processes Covered
GDPR protects the data itself – so any processing of any kind requires you to comply with the rules laid out for the storage, handling, and use of personal data. The GDPR umbrella covers processes including the initial collection of data, storage of the information collected, retrieval, analytical use of that data, and more.
GDPR's wide scope means that almost any process imaginable which utilizes personal identifying data must be in compliance when EU citizens are concerned.
Again, PCI is far more targeted; since less data is collected and fewer processes are needed, only those uses that are part of the payment process are covered. Collecting cardholder data, processing sales, and conveying that data to others are all included under PCI. If the cardholder is from the EU, then GDPR would need to be complied with for all of these processes as well.
GDPR and PCI Coexist and Overlap
Despite differences in the scale and scope of data collected and the type of protections offered, GDPR and PCI often work together; complying with one means you are also complying with the other. In many cases, PCI compliance can help you also comply with GDPR. The narrow focus on securing cardholder data can help avoid risk and keep any other type of personal data secure.
Not sure what PCI is and if you are compliant? Discover what you need to be asking about your credit card policies and procedures.
Compliance Made Easy – I.S. Partners, LLC
Understanding the differences between the broad power and coverage of the GDPR and the laser-focused PCI can help you make the most of both requirements. You'll also be better able to understand how compliance works and ensure your company does not fail to comply with either mandate.
Discover how easy it is to make the most of both data protection initiatives and how to use them to strengthen your organization. Contact us for assistance with either of these programs and to set up processes that fully comply with both PCI and GDPR as needed.
Call the offices of I.S. Partners, LLC today at 215-675-1400 or contact an associate today.