What Is Risk? 
We often think of it as a hazard, or a dangerous chance. But risk isn't necessarily negative. Risk is the thin line that lies between a threat and an opportunity. It's the distance between a loss and a reward.  
Risk represents the point where decision-making can either make or break a company. Successful enterprises know that there are two sides to risk and they both need to be evaluated thoroughly.  So, how can your organization weigh the positive and negative aspects that are inherent in every decision?  Some powerful enterprise risk management tools help choose the best course of action. 
How Does
Enterprise Risk Management
Help?
Adopting an enterprise risk management strategy allows organizations to have a holistic perspective on the most significant risks that stand to prevent the achievement of objectives.
We've outlined the tools that your team needs to develop an effective risk management strategy starting today:
SWOT risk analysis,

ERM framework

,

R

isk assessment matrix.
What Is a Positive Risk?
A positive risk is any condition, event, occurrence, or situation that provides a possible positive impact for a project or enterprise. Because it's not all negative, taking a risk can also have rewards. It can positively affect your project and its objectives.
As counterintuitive as it sounds, positive risk is good for business. For some teams, the possibility of a positive result can actually turn risk into a driver of success in the future.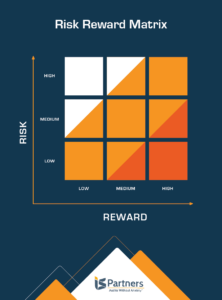 5 Examples of Positive Risk
One of the best ways to sum up positive risk is that it represents opportunity instead of consequence.
1. Positive Risk in Project Management
Every leader develops a budget for their respective project and its resource needs. However, there are often adjustments to make during the course of the project. If a project finishes under budget, it's technically due to an error in the project manager's miscalculation or lack of foresight. Miscalculating the costs of a project is a risk, but the outcome here is positive. And it will be much easier to re-allocate those funds than to recoup what is lost for going over budget.
2. Positive Risk in the Supply Chain
Supply chain logistics are often fraught with risks, but there are times when it works in your favor. Any time a good or service is delivered ahead of time, it is considered a positive risk. If space allows for early delivery, it's a positive supply chain risk.
3. Positive Risk in
Assets & Investments
Engineers and building designers often look at the materials and design plans in terms of structural integrity. If they set out to build a structure intended to last 20 years and end up using it for 40, the company benefits from risk. Such risk may result from an under-estimation of the facility's durability, but the outcome is good.
4. Positive Risk in Development
A company takes a risk when launching a new product. It could be a flop, but it could also be a hit. It's a positive risk that the new product attracts an abundance of interest, even too much. While this may initially cause strain on material supply, production, space, and other resources, an agile enterprise can scale up to meet demand.
5. Positive Risk in Technology
Businesses are increasingly searching for new ways to incorporate technology for greater efficiency. More and more organizations are finding that, with such technological investments, they may be eliminating the need for some jobs within the company. From the standpoint of employees who risk losing their jobs, this is a negative development. Yet, for the enterprise, the significant savings in wages – plus the improvement in efficiency and consistency – is a positive result.
3
Tools for Evaluating Positive & Negative Risk
Risk in general is not defined as specifically good or bad. It is identified only has having the potential to effect business objectives or operations. However, since business leaders must protect the interests of their business, employees, clients and third-party stakeholders, it feels more urgent to focus on the negative consequences in order to avoid negative impact.
Calculating risk is a deciding factor in either surviving or thriving. That's why it's the focus of enterprise risk management. Graphical representations are invaluable tool when it comes to gaining risk insights and sharing them with management, employees, and third-party stakeholders. A carefully prepared graph or chart instantly makes complex issues clearer for those who need to make decisions and carry out action plans.
To help make important decisions wisely, we wanted to provide three powerful tools for your organization.
SWOT Analysis
A SWOT matrix is a tool to help organizations visualize complex issues. This framework organizes factors into four quadrants: strengths weaknesses, opportunities, and threats. Using this makes the difference between internal and external influences, as well as positive and negative factors become clearer. Risk management strategies can then focus on those negative factors and how your team will avoid, mitigate, transfer or accept them.
When should you implement a SWOT analysis? This ERM tool is especially effective in the planning phase and when forming a strategy.
The
ERM Framework
The need for vigilance is constant, but with an ERM framework, risk becomes more easily manageable. The ERM framework consists of the following:
Strategy and objective setting

Risk identification

Risk assessment

Risk response

Monitoring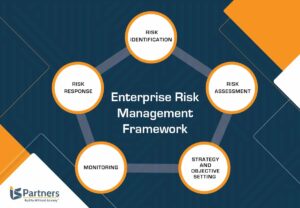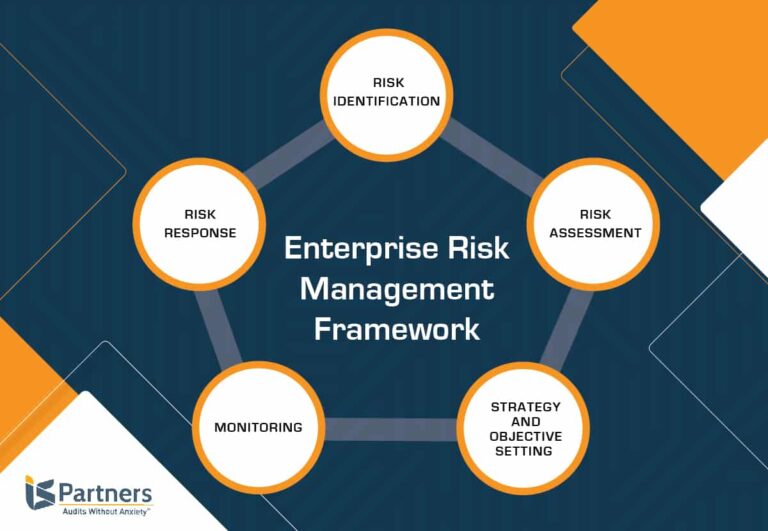 When business leaders adopt this framework and look at enterprise risk management as a continual process, managing risk becomes simpler for everyone on the team.
The Risk Assessment Matrix
A risk assessment matrix is handy to have in your organization's tool kit. It makes it easier to view and share results of risk assessments with your organization's board and management. It also simplifies the process of making decisions based on the findings of a risk assessment.
A risk assessment form is a table format that allows your team to calculate risks and prioritize them. The matrix has two axes: one that rates the possible impact of a specific risk and one that rates how likely it is to occur. Once the risks have been rated in terms of impact and probability, they can be plugged into the matrix.
This color-coded matrix is a visual aid. The goal is to enable your team to identify major threats at a glance and clarify which security issues are a priority.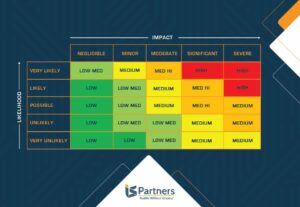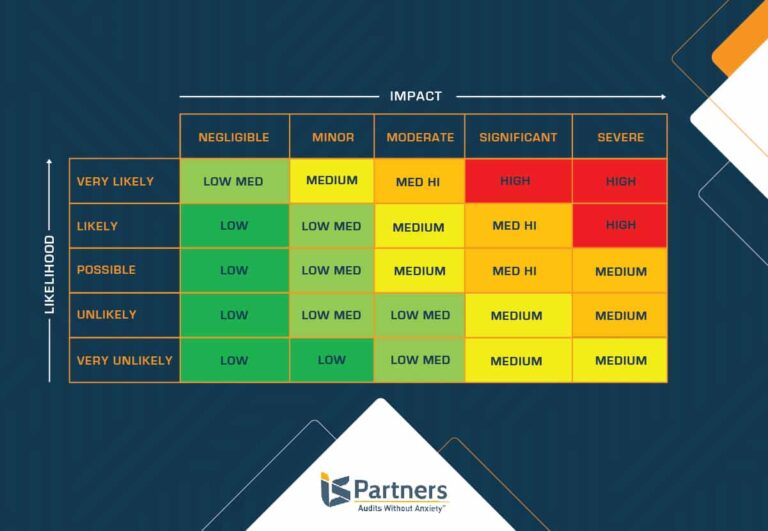 The impact of a given risk is categorized as:
Negligible

Minor

Moderate

Significant

Severe
Probability is categorized as:
Very Unlikely

Unlikely

Possible

Likely

Very Likely
Risk can be prioritized – from low to high – based on your team's experience and the risk assessment results. Using this ERM tool will help your team take a closer look at the risks and their potential outcomes. Then, an effective action plan can be developed to address those medium to high-priority threats.
Related article: How Will AI Change Supply Chain Risk Management?
Are You Ready to Take on Positive & Negative Risk?
At I.S. Partners, LLC., we regularly work with businesses to evaluate risk. We assist organizations in developing strategies to take on positive risks and mitigate negative risks successfully. Talk with our business advisors to get started today.