In your diligent efforts to help your organization achieve its goals, you probably work continually to find the best methods of performing internal audits. Your concerted efforts—along with your IT team, executive staff and departmental managers—in improving the internal auditing process can help to shape the future of your company.
Over the past 10 to 15 years, many companies have chosen to outsource or co-source their internal audits to help reduce some of the professional stress that accompanies an in-depth and informative internal audit. You may find yourself wondering how you will coordinate your upcoming internal audit when your everyone on your auditing team has a full desk and little time to step away.
Perhaps an outsourced or co-sourced internal audit is the right choice for your organization. Take a few moments to learn more about both of these professional options to see how each might work for your organization, and ultimately, which might give you the best results.
The Important Role of Internal Audits
The internal audit, according to the American Institute of CPAs (AICPA), allows organizations the chance to objectively and thoroughly examine, monitor and analyze the reliability of internal controls related to financial reporting to safeguard assets. The internal audit also helps to improve operational effectiveness and compliance pertaining to all relevant laws and regulations. Audits can also help you identify simmering issues before they officially become major problems.
Related article: How Do Internal Audits Work?
If you are new to sourcing, it may help you to know what types of sourcing arrangements are available, in addition to internal audit co-sourcing, to rule out other options. It is important to consider precisely what it is you need and what type of arrangement might work best for the internal audit function you need to fill for your organization:
In-House: A company maintains its own internal audit department.
Outsourced: An internal audit service provider, or independent accounting firm, comes in to conduct the specific internal audit function.
Co-Sourced: The internal audit is carried out by a partnership with a company's in-house internal audit department and an externally hired internal audit service provider. Co-sourcing allows for the internal audit department to work with a trusted internal auditing firm. An increasing number of businesses are using internal audit co-sourcing to close the gaps and meet their security and compliance needs in a more cost-effective way.
Why More Companies are Outsourcing or Co-Sourcing Internal Audits
Even if you have directed several internal audits over the years, there are times when this process is simply too overwhelming for your inundated go-to in-house auditing team. Sometimes you need reinforcements to step in without missing a beat, or perhaps you want to streamline your processes and need the fresh perspective of experienced auditing professionals outside of your organization.
Either way—and for any other reason you might need an outside professional resource—outsourcing or co-sourcing might be just what your organization needs for your upcoming internal audit.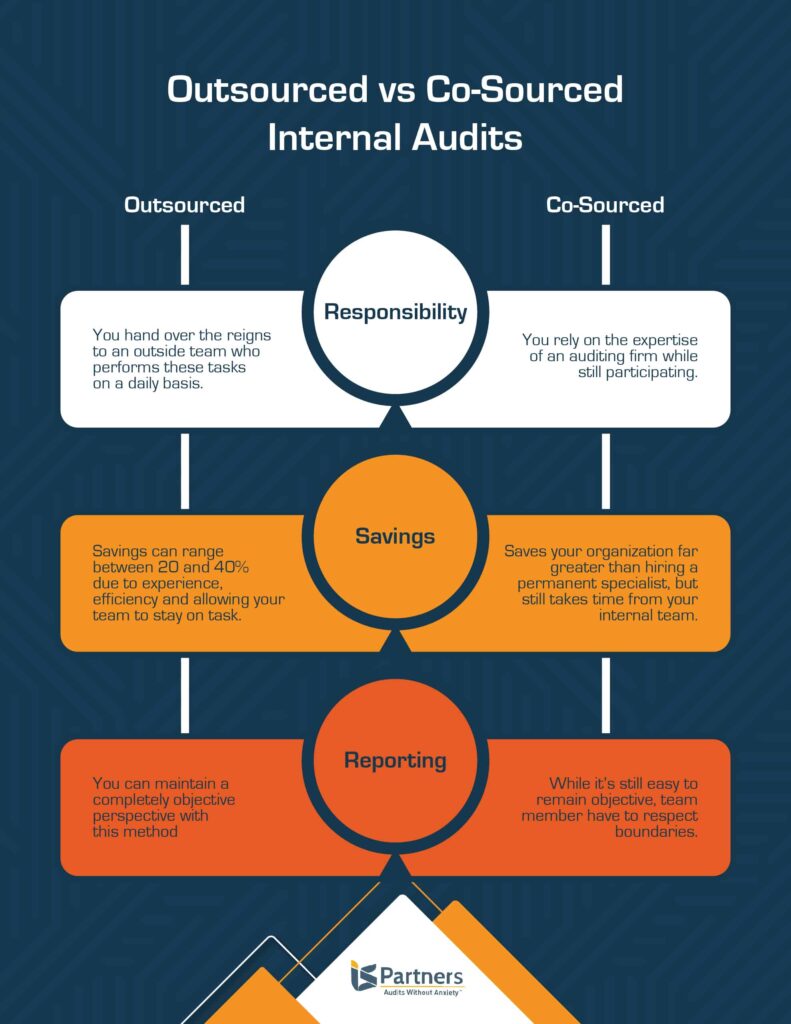 Internal Audit Outsourcing
Outsourcing can help out by taking on many key aspects of your upcoming audit. Respected auditing professionals perform these tasks daily, which makes it easier to perform the necessary steps of an audit, and further to identify underlying issues to course-correct, as quickly as possible.
What Are the Advantages?
When you entrust auditing to qualified professionals, like those at I.S. Partners, they can perform an internal audit in about half the time that an in-house team could. This is thanks to decades of experience and the fact that your audit is their number one priority.
Following are just a few of the benefits that outsourcing can offer your organization:
Greater assurance and risk coverage.
Short-term and long-term flexibility and scalability, depending on your specific agreement.
Savings for your company that can range between 20 and 40 percent due to experience, efficiency and allowing your team members to stay at their desk, completing their regular projects.
Seamless coordination of the various tasks associated with the internal audit, including risk, governance and compliance.
Access to cutting-edge tools and methodologies, such as advanced data analytics that allow the auditing team to perform more detailed and sophisticated data analysis and in-depth monitoring.
Identify emerging and hidden risks easily and quickly to help avoid greater problems in the future.
Report the results in a thorough and objective format.
Relay findings, knowledge and capabilities to your organization in a meaningful way to help refine business strategies to help you and your team achieve strategic goals and objectives.
Internal Audit Co-sourcing
Co-sourcing allows you to rely on the expertise of a professional auditing firm while still participating to the extent that your team can and would like to. You might also call on a co-sourced auditing team to deal with an intensely specific and complex issue or to perform a highly specialized portion of your audit. Either way, your co-sourced auditor's proficiency allows your in-house team to focus on the rest of the audit.
What Are the Advantages?
This approach to performing your internal audit offers you the best of both worlds since you will have an active hand in the process—perhaps by offering nuggets institutional knowledge or quickly accessing a paper file—while benefiting from your auditing team's expertise and streamlined methodologies.
Following are just a few of the numerous additional benefits involved with co-sourcing your internal audit:
The cost savings of bringing in a co-sourced professional auditor is far greater than hiring a permanent specialist or pulling busy employees away from daily tasks.
It provides access to highly specialized knowledge. Even if your organization doesn't have the budget to hire an auditing professional who can spend the necessary time on security regulations, co-sourcing involves specialized auditing experts with specific and essential skills.
Co-sourced auditing teams offer support so that regular staff to participate in the internal audit as much as they are able to without losing too much time on their daily tasks. Some auditing functions and cycles require more of your auditing team than others; but seeking temporary expert assistance can help complete engagements on time when efficiency counts.
Whether your project is for an annual audit, new business activity, or fiscal year-end closing of the books, co-sourcing is a flexible solution in terms of scheduling. Audits sometimes fall around the holiday season when key team members have scheduled time away from the office. In order to honor their well-earned time off, internal audit co-sourcing is the ideal solution for everyone.
You have easy and regular access to an objective perspective throughout the course of your internal audit and upon receiving results. An objective co-sourced auditor can help your team understand what changes you need to make, based on the audit's results, to make improvements, no matter how resistant to change your team may be.
Since this auditing involves higher executive levels, an outside professional with risk assessment experience provides insight into how other financial, operational, and industry risks might impact your business.
Many of the benefits associated with co-sourcing are similar to those of outsourcing, but on a smaller scale and according to your specific needs. Bringing in a professional, or a team of professionals in internal auditing, can not only help you shore up a specific project in a given time frame, but these professionals can also leave a lasting impression on your own internal audit team. By working with an assured firm that offers an organized and streamlined approach, your own team can adopt certain approaches and philosophies to help stay on point daily for better ongoing efficiency and easier preparation for future internal audits.
Related article: How Often Should Internal Audits Be Performed?
Considerations for Selecting a Firm for Co-Sourcing or Outsourcing
If you have never hired a third-party internal auditor, take a look at a these key considerations and expectations to help you get started:
Works within your firm's professional standards.
Retains institutional knowledge for future projects and assignments to avoid back-tracking.
Understands the culture of the organization and works with the internal audit team.
Offers advisory services to audit committees and senior management.
Covers remote locations.
Stays in good standing with requisite memberships and certifications in relevant professional organizations.
Steps up to offer advice for internal auditing team to develop better practices for internal audit function to streamline processes and improve accuracy.
Extends specific industry knowledge to in-house audit staff via scheduled training sessions and on a one-on-one basis.
Helps use internal auditing as a means to providing internal promotions for valuable organizational team members.
Maintains the expected knowledge base of the hiring organization for each possible engagement.
At I.S. Partners, LLC. We Can Help with Your Next Internal Audit
Whether you need outsourcing or co-sourcing, our team at I.S. Partners, LLC. is here, and we are ready and happy to help. We can provide the expertise or relief you need to perform a highly informative and effective internal audit to improve your business processes and avoid risk.
Editor's Note: This post was originally published in June 2017 and has been updated for accuracy and comprehensiveness.