Since HIPAA's implementation, the healthcare industry has made great efforts to remain in lockstep with the ever-increasing pace of technology and the industry-wide trend toward embracing the reliance on electric health records (EHR). HIPAA has proven its worth by instilling and fostering a nature of ePHI stewardship among healthcare staff, the patient community, board members and other third parties.
Covered entities and business associates handling ePHI have to work earnestly to achieve and maintain compliance with HIPAA requirements. It is important for these organizations to have a way to prove their commitment to protecting ePHI to with the community.
Learn more about HIPAA Privacy & Security Regulations.
Why Is It Important to Prove HIPAA Compliance?
In a time when data breaches are at an all-time high and rising, it's more important than ever to provide assurances when it comes to protecting ePHI. Keep in mind that the healthcare industry suffers more data breaches than any other industry in the U.S. Plus, attacks are currently on the rise.
"Healthcare accounts for 79% of all reported breaches in 2020; Reports show a 45% spike in attacks against healthcare providers since November," according to Health IT Security.
The risk of exposing a patient's ePHI puts the reputation and financial stability of your business, its stakeholders, vendors and other third parties on the line. Therefore, you want to be able to let those relying on your organization know that you are committed to protecting ePHI. HIPAA is the gold standard when it comes to strengthening your organization's brand by proving your current and consistent HIPAA compliance.
Related article: the Valuable Advantages of HIPAA Risk Analysis.
What Is HIPAA Certification and Does HIPAA Certified Equal HIPAA Compliant?
HIPAA certification simply means that an organization has participated in a training course with information needed to steer the organization toward achieving HIPAA compliance. Certification is not a recognizable measure of HIPAA compliance.
HIPAA certification courses are offered by companies to help businesses understand and comply with all the regulations. However, they do not attest to the company's compliance with those regulations. Nor does the certifying company bear any responsibility for a company not implementing the necessary security and privacy measures.
Therefore, HIPAA certification does not equal HIPAA compliance. Does that make HIPAA certification worthless? No. Organizations can certainly take the information learned via HIPAA certification training to help achieve compliance.
How Can You Easily and Effectively Prove HIPAA Compliance?
Healthcare organizations must rely on the goods, services, and expertise of businesses not fundamentally associated with the healthcare industry. That is just the way of today's world, as healthcare companies—like businesses in any other industry—try to find the best resources for the best financial value. This means that some specialized companies—like cloud servers and payroll processors—aren't designed or mandated to comply with regulations aimed at the healthcare industry.
Following are three ways to prove your organization has achieved HIPAA compliance. These will show your clients, business associates, and stakeholders that your organization is dedicated to privacy and security.
1. Self-Assessments
With HIPAA compliance self-assessments, there is no need to obtain third–party verification or auditing. This the least expensive, in terms of upfront costs. Although, costs in terms of staff hours and effort can add up quickly. Combing through all the policies and procedures on your own—without the assistance of an experienced HIPAA auditing team—can be a big undertaking.
Businesses need to craft reports that thoroughly document the path to HIPAA compliance. This means reviewing mountains of supporting documentation, which may include screen shots of settings and links to policies, to illustrate an organization's compliance. Not surprisingly, self-attestation can become a long and arduous process for everyone involved.
Some organizations invest in software that lays out all the policies and procedures, but it's still time-consuming and difficult for staff who are unfamiliar with the documentation required.
2. Third–Party Audits and Attestations
Another option is relying on an external auditing firm to conduct a compliance assessment. This covers the measures in place to ensure patient privacy and data security. It looks at how your organization collects, stores, processes and transmits ePHI and can provide attestation that it complies with HIPAA regulations.
At the end of the audit, your auditor will provide an attestation; this is verifiable proof of your organization's full compliance. Top auditing firms will provide an official badge or seal to add to your website, demonstrating HIPAA compliance.
This may be the easiest way to prove HIPAA compliance. Even with a somewhat greater initial cost, the expertise and guidance make it highly attractive to busy healthcare organizations. In the end, it often saves these organizations both time and money.
3. Purchase Software to Achieve HIPAA Compliance
If the first method of proving HIPAA compliance is too risky, and the second method is too expensive, consider investing in software. There are programs available to streamline and automate the process of ensuring HIPAA compliance. Software programs provide minimal guidance in completing the HIPAA compliance documentation.
The primary downsides to this method of providing proof include the fact that such a software program can be expensive, and you will need to seek regular updates through the product's manufacturer, which may cost more money over time.
Get more information from our team of experts: Should HIPAA Audit Logs be Kept for 6 Years?
Penalties for HIPAA Non-Compliance
Noncriminal violations of the HIPAA Security Rule is managed by The Department of Health and Human Services Office of Civil Rights (OCR). On average, fines for violations run from 100 to 50,000 dollars based on the tier level:
Tier 1 indicates the organization was unaware or could not have avoided the violation.

Tier 2 states the organization was likely aware but could not have avoided the violation

Tier 3 is for violations that occur due to willful neglect but an attempt is made to correct the problem

Tier 4 refers to violations due to willful neglect where no attempt is made to correct the problem
Companies that violate the rules of HIPAA may also be held criminally liable if they disclose personal information or obtain it under false pretenses for commercial or criminal purposes.
Although developing the means to remain compliant can seem extravagant, the cost is much less than a breach.
As of 2020, the average healthcare data breaches cost $7 million beyond the HIPAA fines. Organizations typically face civil lawsuits from patients whose privacy has been violated, as well. When you consider the epic results from a data breach, the cost of things like a SOC 2 assessment makes sense.
Your HIPAA Compliance Checklist
The ability to work with patient records and other sensitive data in an increasingly electronic environment is crucial to your organization and the entire healthcare community. Use this checklist to make sure that your organization is meeting the marks for HIPAA compliance.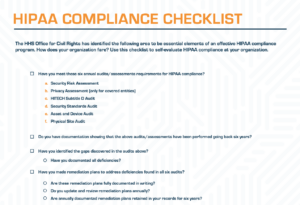 Checklist source: the HIPAA Journal.
Your Guide to HIPAA Compliance
At I.S. Partners, we understand the value of hiring specialized companies to handle specialized tasks. We also understand that, in doing so, these valued business associates must comply with the healthcare industry's standards and regulations. We can work with you to ensure full HIPAA compliance.
Contact our office to learn more about HIPAA certification, compliance, and much more.