HITRUST CSF Certification is often the ultimate goal when preparing for and undergoing HITRUST® assessments. It has become a benchmark for data protection standards in the healthcare field and is now being widely adopted in others that handle sensitive data, such as the financial services industry. It helps organizations, business associates, and vendors to manage IT risk across all sectors and throughout third-party supply chains.
This specialized series of articles looks into each phase in the process towards HITRUST certification:
HITRUST CSF Certification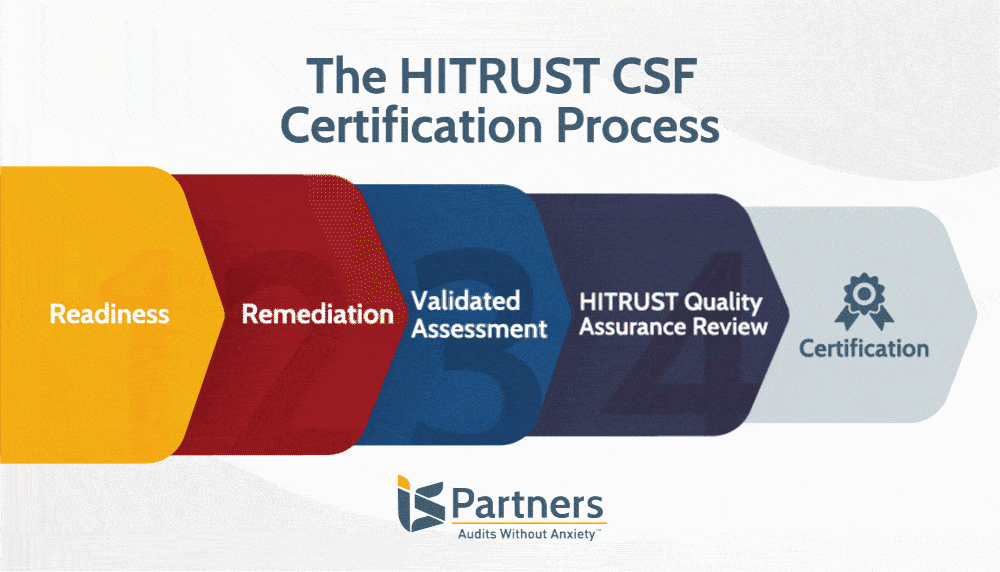 When working towards certification, it's helpful to remember the importance of this process and understand what it represents.
Becoming HITRUST Certified is crucial for healthcare organizations, their business associates and vendors. It is also a valid way for covered entities and their supply chains in other industries to show compliance with information technology security regulations.
IMPORTANT UPDATE: HITRUST Assessments & Certification Options have been Renamed and Redefined.
Why Your Organization Should Get HITRUST Certification
Obtaining HITRUST certification is an important way to communicate that information security and privacy is both a necessity and a priority for your organization. It is a commitment that is recognized by business partners, third-party companies, and regulatory agencies. The benefits of HITRUST certification include a high level of data security, ongoing improvement, and updates to stay ahead of threats and vulnerabilities, greater compliance efficiency, effective third-party risk management, and a strong opportunity to build trust with stakeholders. Here's what we mean…
Data Security
Today, organizations of all sizes and all types must take steps to protect themselves from constantly evolving cyberattacks. The threat to cybersecurity is real and data breaches occur with alarming regularity. For example, in just the first half of last year, more than 25 million patient records were potentially breached; this was already up from 15 million in 2018.
The HITRUST assessment process guides an organization in:
Identifying the level of cybersecurity protection currently maintained by the organization to safeguard PHI and other regulated data,
Analyzing the effectiveness of current security controls, and
Implementing effective controls.
Certification verifies that appropriate controls are in place to maintain security while freely exchanging regulated data as part of normal business operations.
On-Going Improvement and Updates
Using the maturity model, the HITRUST approach to evaluating control maturity also encourages continual improvement for the cybersecurity program. Each level of the model builds upon the previous one; in this way, the organization works to increase control effectiveness over time.
Plus, HITRUSTrequirements for certification are constantly evolving in order to keep organizations compliant with the latest regulations. Updates and new versions are also released to help account for changes in technologies and vulnerabilities.
What to Know About the New HITRUST CSF v9.3 that Is Now in Effect.
Compliance Efficiency
Organizations are always more reliant on technology for data storage and transmission. In turn, regulations work to protect consumer and patient privacy. Federal and state regulations are designed to mitigate security threats while ensuring confidentiality, integrity, and availability of data that is created, received, maintained, or transmitted.
The HITRUSTAssurance Program streamlines compliance documentation, testing, and reporting. The HITRUST combines other existing standards and regulations, including HIPAA, HITECH, PCI, COBIT, NIST, and FTC into a single, comprehensive framework, yet is also flexible and scalable so that it can be tailored to fit companies of any size and operating in a wide range of industries.
With one assessment process, organizations can ensure that controls meet the required standards that are most used in their particular industry. This makes the compliance process clearer, more efficient, and cost-effective. It is especially advantageous for organizations that have multiple compliance obligations, effectively reducing overlapping efforts, time dedicated to them, and wasted resources.
Third-Party Risk Management
Organizations rely on outside companies for a wide range of services. Though these entities increase efficiency for the organization, those with access to their internal network and sensitive data have the potential to increase security and privacy risks. This is why covered entities are required to assess third parties' privacy and security practices, risk management practices, and compliance with regulations.
The HITRUST framework defines a process for validating third-party compliance. Thanks to simplified and standardized reporting, participating organizations can more easily demonstrate their compliance through a single assessment and certification. The HITRUST Third-Party Assurance Program encourages transparency, accuracy, and consistency in evaluating the presence and effectiveness of security controls.
Building Trust
By committing to performing regular HITRUST assessments and obtaining certification, your organization proves to its business associates, partners, patients and/or clients that it meets the high security standards outlined by the framework. Certification provides assurance to all stakeholders that the organization is appropriately managing risk. HITRUST is a reliable benchmark and a trusted symbol of a perpetual commitment to protecting security and privacy.
Achieving HITRUST Certification
To achieve certification, the entity must successfully complete a validated assessment and meet all necessary minimum requirements for certification. More specifically, this requires the organization being assessed to:
Show that it meets all the security controls set in the HITRUST framework for the current year and at the right level according to the requirement statements; and
Obtain a score of 3 or higher for each of the 19 domains.
The results of the assessment and testing procedures are overseen by the HITRUST External Assessor are reviewed, approved, and certified by HITRUST. Certification is valid for two years pending the completion of an interim assessment within 12 months.
Is It Possible to Lose Certification?
Organizations are required to monitor security controls even after certification is achieved. In case of a data breach or suspicion of a security incident, they must notify HITRUST. This will allow HITRUST's Compliance team to investigate the issue. Certification may be suspended if they find evidence of a breach that affects HITRUST required controls.
Following de-certification, the organization can submit an analysis of the breach and a corrective action plan to HITRUST for review. If approved, certification status can be reinstated though the organization will need to complete annual assessments for the next two years in order to maintain it.
Refer to our handy guide to HITRUST Terminology.
Your Partner for Compliance Success
In today's environment, organizations rely on a solid and agile security posture. I.S. Partners, LLC can assist your company in preparing for and performing HITRUST assessments. Whether it's the first time or your certification has expired, our team of auditing experts will help you every step of the way.
To understand what it will take for your organization to become HITRUST Certified, call the I.S. Partners team at 215-675-1400 or request a consultation.