Professional Mobile Use Is Not Slowing Down, So Keeping Up Your Data Security Efforts Is Essential
Between work-related travel, a huge increase in some degree of part-time telecommuting, and contracted workers, the mobile work world has virtually exploded over the past decade. You probably see it and manage this work-from-anywhere revolution that is afoot and gaining ground with each new technological innovation or iteration. As if managing sensitive data wasn't tenuous enough when everything was on-site, but now your team faces trying to protect data roaming the world.
The Global Workplace Analytics website reports, as of January 2016, that the average telecommuter works in a company with more than 100 employees and that "regular work-at-home, among the non-self-employed population, has grown by 103% since 2005." Those numbers do not necessarily account for employees who frequently travel or simply check email at night, on weekends and during personal travel, but the numbers only increase.
If those numbers sound anything like your company—or if you have newly implemented a telecommuting or remote usage policy— you are incredibly busy trying to keep your company's critical data safe from third-parties with bad intentions who are on-the-prowl, considering hackers and cyber-attackers are probably well aware of the same statistics.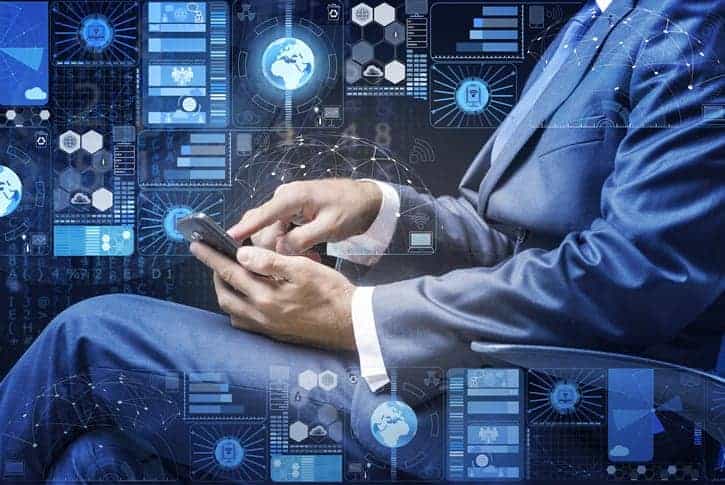 Tighten Up Data Security While Giving Employees Free Professional Rein in the Mobile World
Any time employees can respond instantly to clients' needs—no matter where they are or the time of day—your company garners more appreciation from those valued clients, meaning more business. Nobody wants employees to spend less time caring for the needs of the company since, in the end, everyone benefits from such commitment. Of course, their commitment requires additional commitment from your IT team to ensure data security while also attending to regular on-site computing needs.
There are plenty of ways that your IT team can tighten up information security, whether you store information on-site or in the cloud. It is simply a matter of devising a plan that wards off intruders while giving your staff the technology they need while outside of the office.
Start with the Basics of Data Security in the Mobile World
All you may see when you look at the ever-growing list of mobile device users in your workplace is more work for your IT team. By working with your executive and IT teams, you can develop, implement and enforce a tough—yet fair and without inhibition of professional use—mobile security strategy.
Below are just a few ways you can keep data secure while setting your employees free into the world for maximum digital productivity:
Develop a Clear and Firm Mobile Data Security Policy
Sometimes called a "governance model," your mobile policy model will lay out all the rules involved with using a mobile device remotely. Such an information security policy will help employees understand the risks of using their mobile device remotely, as well as the rewards. It may help for them to know that, without the proper precautions, accessing a client's private data could end in disaster for everyone. Such a document serves as both a detailed explanation and an agreement that they must acknowledge and sign.
Plan Regular Mandatory Mobile Usage Training
Again, reinforcing the need for adherence to company safety policies is essential, and the more employees understand, the better they will comply. Employees can learn some of the specifics of your IT team's daily tasks and new technologies, such as encryption, authentication and authorization controls. Additionally, it is critical to remind employees—and remind them often—how critical it is that they keep track of their phones because, loss of their smartphone may mean loss of valuable data.
Encrypt Data on Devices
Whether the employee uses a laptop, mobile phone or tablet, encryption will slow the efforts of hackers—if it doesn't stop them altogether—if a phone or laptop is stolen or lost while out of the office.
Keep BYOD Mobile Users in Mind When Strengthening Your Data Security
Perhaps not all employees in your use company-distributed mobile electronic devices. Instead, perhaps your organization has decided it is more cost-efficient to become part of the BYOD revolution, which allows employees to use their own mobile or tablet for work. If your company has embraced this highly popular digital trend, "it is even more important for corporations to isolate enterprise data from personal data on the device to ensure enterprise data security while simultaneously maintaining user privacy."
Incorporate a Few Primary Ways to Secure BYOD Mobile Devices
The popular BYOD trend can mean huge financial savings for your organization, as long as your employees are willing to use their device and you are able to batten down the data security hatches while not infringing—however inadvertently it may occur—on their private data.
You can have the best of all possible worlds in the BYOD age when you on a few key components:
Shield Back-End Infrastructure: Use access management tools to make sure only authorized devices and users can tap into your company's data, regardless of whether you use in-house data storage or software-as-a-service solutions. Monitor and block unauthorized access based on the device and user security posture.
Secure the Device: Mobile Device Management (MDM) is your ally in this endeavor when it comes to smartphones and tablets. With these devices, it is easier to see different applications and whether they contain company data, or they belong to the employee.
Containerize the Data: Enterprise Mobility Management (EMM) continues to progress and can now isolate your company's sensitive data via the concept of "containerization," or the isolation of corporate data through an encrypted app—or several encrypted apps—on the device.

Call for Reinforcements to Help Keep Your Data Secure Anywhere, Anytime

Whether you need help developing your information security policy or analyzing your incident reporting and response system, I.S. Partners LLC. can help you feel confident in your data security in the mobile world. Reach out to us and request a consultation to let us know just what you need.